Get iBox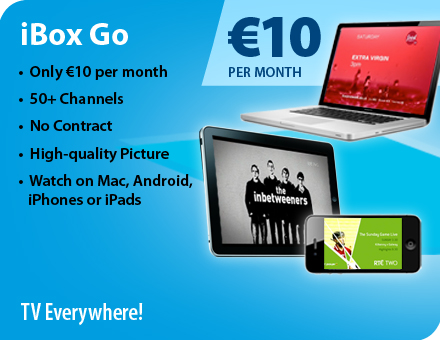 More Information
60 TV channels on your iPhone, iPad, Mac or Android device for just €10 per month.
Download the free iBox app (on Android) or watch from our site.
Our technology adapts the picture quality to match your broadband speed.
iBox uses broadband (or mobile data) to receive TV. You are responsible for any extra data charges incurred. (You should check with your Internet provider if there are limits imposed.)
iBox is only available in the Republic of Ireland.
Can your Android device can get iBox?
Install the free iBox app here and try the Demo.
Full details of our terms & conditions are available here.
Pricing & Conditions
First month free !
No contract
Monthly fee: €10
(payable in advance each month)
Payment by PayPal, Credit Card or Direct Debit.
Automatic payments taken every month.
Our pricing does not include cost of broadband, which must be paid to your ISP.